Engraved Serving Board 6" x 10"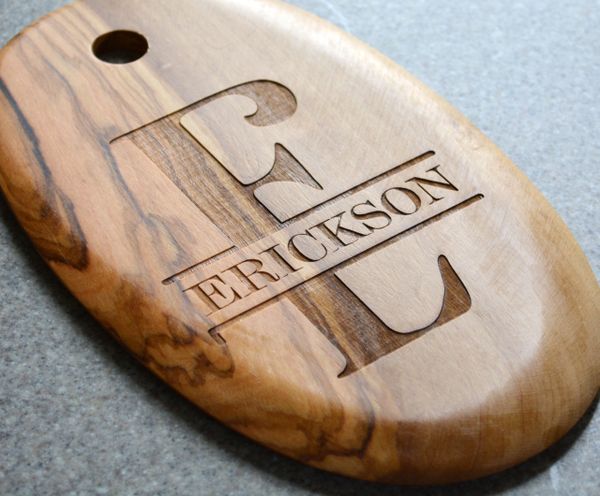 Engraved Serving Board 6" x 10"
Personalize your very own beautiful olive wood bread board with your family named laser engraved with a split monogram font. Please view the font alphabet to see how your family name will appear when engraved. We use the first letter of your last name as the split monogram. Made of gorgeous olive wood crafted into a contoured oval shape, this beautiful serving board will be even more special when engraved with your family name. Measuring 5-7/8" by 9-7/8", this rustic and stylish serving board is perfect for serving a variety of small plates including freshly baked bread, hors d'oeurves, and cheese selections.
This heirloom piece makes a great housewarming gift. Each olive wood serving board is unique with a beautiful natural grain. A small hole at the top measuring about 3/4" in diameter allow the serving board to be hung on a wall for display. To preserve the engraved side, please use the reverse smooth side for cutting and chopping.
***Submit your business logo for engraving the reverse side!***

Our bread boards make great marketing tools. Personalize with your customer's name on the front and put your logo on the reverse side for no additional charge. Since we don't have a way of auto-uploading art directly through the checkout process, just email your logo to us prior to purchase or after purchase, with the quantity you would like. Also, please let us know how big to make your logo and where on the reverse side to engrave it. We recommend a size no bigger than 3x3 inches engraved near the top just under the hole. Please submit a black and white 300 dpi pdf logo to our email address info@minnesotalaserengraving.com.
Or Click this link to submit art to our email address . Black and white art only in hi res pdf format.
We are happy to provide preferred pricing for multiple orders. Just contact us for an estimate!
Overall Dimensions:

Length: 9 7/8"
Width: 5 7/8"
Height: 3/4"

Special Care Instructions:
To preserve the natural grain and beauty of this olive wood serving board, please hand wash only with mild soap and water. Dishwashers can ruin wooden bread boards over time. To condition the wood, apply a thin coating of mineral oil and wipe off residue with a clean cloth.