Custom Wedding Bread Board 6" x 10"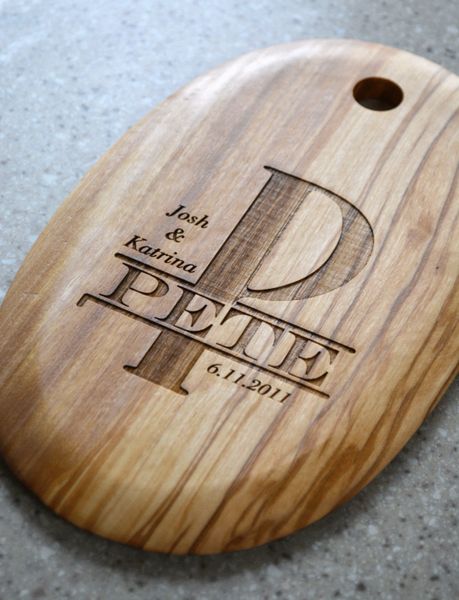 Custom Wedding Bread Board 6" x 10"
Personalize your very own beautiful olive wood bread board. Made of gorgeous olive wood crafted into a contoured oval shape, this beautiful serving board will be even more special when engraved with your family name. Measuring 5-7/8" by 9-7/8", this rustic and stylish serving board is perfect for serving a variety of small plates including freshly baked bread, hors d'oeurves, and cheese selections.
This heirloom piece makes a great wedding or anniversary gift. Personalize with the couple's name and wedding date, or choose a simple monogram with just their last name. Each olive wood serving board is unique with a beautiful natural grain. A small hole at the top measuring about 3/4" in diameter allow the serving board to be hung on a wall for display. To preserve the engraved side, please use the reverse smooth side for cutting and chopping.
Overall Dimensions:

Length: 9 7/8"
Width: 5 7/8"
Height: 3/4"

Special Care Instructions:
To preserve the natural grain and beauty of this olive wood serving board, please hand wash only with mild soap and water. Dishwashers can ruin wooden bread boards over time. To condition the wood, apply a thin coating of mineral oil and wipe off residue with a clean cloth.